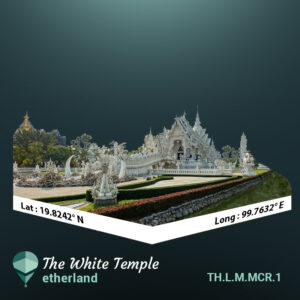 Originally in a bad state of repair at the end of the 20th century, the Wat Rong Khun, or White Temple, was rebuilt and funded entirely by the local artist and architect Chalermchai Kositpipat. A few years later, in 2014, an earthquake struck the region and the Wat. Upon learning that the temple was structurally unharmed, Kositpipat announced that he would devote his whole life to maintain the historical temple complex.
Off the Highway Phahonythin Road, some 15 kilometers South West of Chiang Rai Province in Thailand, is the privately-owned Wat Rong Khun art exhibit. Better known as the White Temple, it is a Buddhist temple owned, designed, and constructed by Chalermchai Kositpipat. It was opened to visitors in 1997.

The temple's origin is unknown, but it was found dilapidated without any funds to rebuild and rehabilitate it. At such time, the most famous Thai visual artist Chalermchai Kositpipat -known for using Buddhist imagery in his art- purchased it and built it into a non-traditional temple. It is not a religious temple per se, but as it is built with Buddhist aspirations, it is known as a Buddhist temple. The temple is also used as the learning and meditation center of the province.

The White Temple is a highly detailed temple with its style and symbolism. Much of the temple symbolizes the Buddhist cycle of suffering-laden life, death, and rebirth without any specific beginning or end. This belief is known as Samsara, which is depicted beautifully in the temple. One such beautiful depiction is done with the help of sculptors of predators struggling to free from the ground, indicating the struggle to leave the desires. There is a bridge called the "cycle of rebirth," where hundreds of reaching hands are sculptured to indicate hell and suffering. Crossing this bridge symbolizes that way to happiness by overcoming greed, temptation, and desire.

A famous giant, the "gate of Heaven," comes after crossing the bridge. This gate is guarded by two huge statues representing death and a creature that decides man's fate, Rahu. Besides these sculptures and religious undertones, other symbols carry the meanings of Buddhism and encourage the visitors to reflect on Buddhist teachings and escape from worldly temptations. Other murals are of aliens, Superman, dragons, and many others. Visitors cannot take pictures of murals; however, they can purchase small duplicates from souvenir shops.

Unlike other traditional Buddhist temples in Thailand, this temple is all white, other than the golden building. The main white palace is the main attraction; however, there are a total of nine temples, some of which are still under construction. The white temple is made up of glass and mirrors embedded into the walls on the outside, which shine and sparkle in the sunlight. While in the moonlight, it appears ghostly and otherworldly for its non-human sculptures.

The golden building stands out most in the white temple. It is a very ornately decorated structure that denotes the human body and worldly desires. It symbolizes how people focus on worldly desires and material things and discourages this behavior. The white temple is an architectural wonder that has several concrete trees with thousands of medallions hanging down from them. Visitors can also add their names to beautiful pieces and hang them on these trees for 30 Baht. There is also a wishing well in the temple where visitors throw coins after making a wish.

This unique and unconventional temple attracts thousands of visitors from Thailand and throughout the world. It is the main tourist attraction in Thailand as it is the most unique Thailand temple in existence.